Connor Bunce
Connor is a Community Coach at Football Futures Foundation and at the age of just 20 has already achieved much in football. He has won the Young Pararoo of the Year in 2019, played for Australia in the International Federation of Cerebral Palsy World Cup in 2022, and won Australian goal of the year also in 2022 against the USA.
Connor was adopted when he was 2 and his new parents noticed that he seemed to favour the left side of his body which, following medical assessment, resulted in a diagnosis of cerebral palsy. A program to build up his right hand side commenced initially with swimming when he was 4 then football when he was 5. Not unlike other children with a disability Connor was bullied at school when he about 12 and 13 and felt a bit of an outcast. To combat this and with the strong support of his parents and ongoing support from his coaches Libero Pietropaolo, Kai Lamment and Fadi Maayah, he adopts the approach of facing his self-doubt head on as a means to push harder and concentrating on turning 'what I couldn't do' into 'something that I could do.' From this approach his ability as a footballer grew leading to selection for Australia in the World Cup Pararoos at the age of 16. This gave him a special memory of scoring Australia's goal in a 3-1 defeat to soccer powerhouse Argentina in Seville in Spain.
Other than being a keen spear fisher in his hometown of Albany, Connor is also a disability carer and provides support for younger kids giving them the tips that he has learnt himself growing up, facing challenges and overcoming them.
Looking back he says that the advice he would give to himself at the age of 14 when things were tough would be 'Keep pushing for your dreams. Barriers can be overcome but time stops for no one so get on with it and ditch any negative thinking.'
Looking to the future Connor aims to win a trophy with the Pararoos and become a professional footballer and the forthcoming Nationals in October will provide the next step in his journey.
– Written by Tom Jeffcote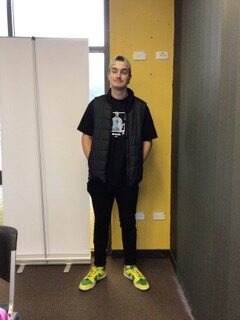 Sam McConnachy
Sam is 21 and a Community Coach at Football Futures Foundation where he teaches skills to kids with a disability. He has also been a regular outfield player for the W.A. Paras but is now the team's goalkeeper having taken over when Chris Barty retired.
Sam had a tumour removed from his brain when he was just 10 leaving him with limited physical ability on the left side of his body. He became a victim of bullying at school and his confidence took a massive hit. Faced with these challenges and supported by the encouragement and love of his parents, Sam started playing football. In his words 'it stopped me going insane. Football gave me something to play for and still does give me a purpose in life.' Mentally he adopted an approach of not being ashamed of his disability but rather to embrace it and say that 'this is who I am' and from this approach his ability as a footballer increased to such a level that he became a State player.
I ask him if he has a special magical moment in his football career and he grins and says it was his first ever goal for WA in 2017 where he scored as a midfielder sweeping in a cross with his left foot. 'The feeling was insane' he says.
When asked what advice he would give to himself as a 14 year old which was about the time when he was being bullied at school and things were very difficult he says 'keep moving – it all works out – everything happens for a reason.'
Looking now to the future his ambition is to be the best goalkeeper in the world and helping WA to 'win it all.' As we close the interview he adds that his parents have been an enormous influence on shaping his approach to life, encouraging him to 'push towards his dreams, work hard and always be polite.'
– Written by Tom Jeffcote