The No Limits Soccer Carnival is an integrated soccer competition, that is a mix of mainstream students and students with disabilities. This event comprised of 7 players per team on the field and were a mixed gender. Student's aged between year 7-12 were welcome to come along. We had eight schools participate in over six, thirty-minute games of soccer throughout the day.
Renee Tedesco, Inclusion and Participation officer at ACC said:
"It's just a wonderful thing to have students participating in sport".
"As we know, physical activity among our teenagers tend to drop away, so a day like this where it offers students an opportunity to see what is out there for them to be able to be involved in sport and get themselves moving is really important to us at the ACC".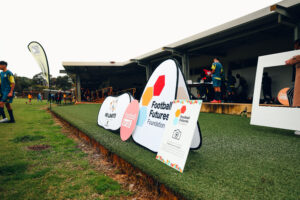 We were lucky to have support from the Mercy College Soccer Academy students that helped us facilitate by coaching and umpiring each of the teams. The participating schools also were treated to a 30-minute skills and drills clinic facilitated by the students from Mercy College.
A student from Mercy College Soccer Academy said:
"Our team is actually very good I'd say, they are very technical, and their skills are on top. I didn't expect it from them but it's just amazing.
"They are having so much fun I'm so proud of them".
Tristram Morgan, Head of Mercy College Soccer Academy said:
"I think with soccer and bringing our Mercy College students down, its about everyone having a go and about them seeing and joining in with people who have different disadvantages to them, so that soccer can be a part of everyone's life".
We thank the Mercy College Soccer Academy for the part they played during the carnival, it would not have been a successful day without their help. The student's leadership and positive attitudes put a smile on everyone's faces.
Congratulations to Christ Church Grammar School for winning the shield at the No Limits Soccer Carnival. Lumen Christi put up quite a fight in the grand final, but they managed to come away with the win. What an exciting game it was to watch!
Thanks to ACC Sport for allowing us to be part of such a successful and inclusive day. We look forward to partnering with Mercy College & ACC sport in the future.