Launch of Blind Football League 2023
In July 2022, Football Futures Foundation were accompanied by the Aston Villa Foundation in what was a very successful week of spreading awareness and empowering the lives of people with a disability.
To kick start the week, Football Futures Foundation, with the notable support of Aston Villa Football Club and many other partners, announced the 2023 launch of WA's first Blind Football league.
As it stands, WA is one of the only Australian states/territories without a formalised state blind football competition. Launching this competition will create enhanced participation opportunities for WA's visually impaired community. Blind and partially sighted participants will gain immeasurable social, health and development benefits.
The launch of the Blind Football League was captured by Channel Ten News, which covered the overall foundation we intend to build in WA for the visually impaired community.
Guy Rippon, Head of Foundation & Community at AVFC said:
"Back home in Birmingham we do quite a lot of stuff with the visually impaired. This is a chance for our coaches to come and meet the coaches that are doing similar things here, to share some drill ideas and a little bit of knowledge"
Kyle McGinn, Parliamentary Secretary to the Minster for Disability Services said:
"The mental wellbeing for somebody to be part of a team and to learn new skills – their smiles have not wiped off their faces and this isn't even the competitive side yet".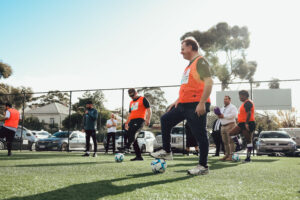 Football futures Foundation commits to continue in it's leadership and advocacy of blind and partially sighted football in WA. We look forward to working with key stakeholders to create a thriving, accessible and participant-centred competition.
Coaching session with Telethon Speech & Hearing
To finish off the week, Football Futures Foundation and Aston Villa delivered a coaching session with Telethon Speech and Hearing.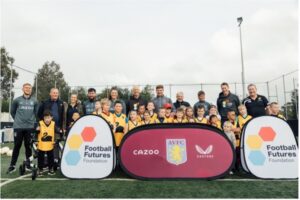 Sixty children aged 5-12 with speech and hearing impediments took part in the activity, with the thrill of being joined by special guest Steven Gerrard. You couldn't wipe the smile off not only the participants face, but also the spectators. Gerrard delighted participants by joining in on the drills, signing autographs and posing for photos.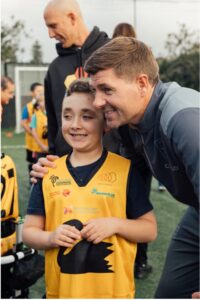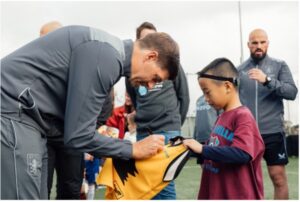 Football Futures Foundation is incredibly honoured to be able to connect with the Aston Villa Foundation in what was a spectacular week for the community. We are very grateful for their participation and guidance and look forward to connecting with them again in the future.