On behalf of the Football Futures Foundation, we would like to wish everyone a Happy New Year. We are overjoyed and thankful to everyone for helping create and build Football Futures Foundation into what it has become today.
2023 is an exciting year for the foundation as we continue to develop and partner with more stakeholders. Major events such as the Women's world cup, CP Paras Nationals, and the start of WA's first Blind Football season make this year the best year yet!
Football Futures has loaded 2023 with program delivery across Western Australia's metro and regional areas. We had the privilege at the start of this year to partner with the City of Geraldton and Football West in delivering the free school holiday "Football on the Foreshore" program as well as facilitating the Soccer for Change program, which was seeded by Football West in 2017 and has since become a regular week-long January school holiday program.
The Soccer for a Change program uses football as a fun vehicle to drive home important lifestyle and health messages to our young boys and girls. This year's program motto was "Respect yourself, Respect your Culture". A huge thank you to Geraldton Sporting Aboriginal Corporation, Western Australian Centre for Rural Health, City of Greater Geraldton, and Football West's Tanya Amazzini for teaming up and providing a platform for our Foundation to support the delivery of this free holiday program.
Mick Owens, Inclusion Programs Lead shared his experience travelling up North:
Football futures on the road!
Our first day was spent on the road. The amazing Brent Hedley, Jess Bonzas and I got to share stories and chat about how football & sport can change people's lives, and then we were in Geraldton before we knew it!
The next morning, we were up bright and early, ready for whatever lay ahead. Football! and kids! Name a better combo.
What a great morning, we introduced the players to low-vision football, with blindfolds on and modified balls. The kids and even the local police got in on the action, gaining a new respect for football for all! Then it was into some 1v1, 2v2 and finally, game on. We had players showing off their goal celebrations, which I was reluctant to do after turning my ankle doing my Ronaldo celebration, I think I will stick to umpiring!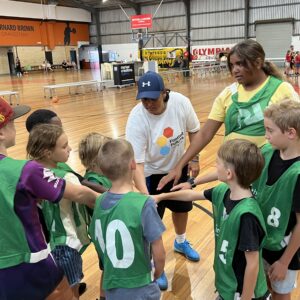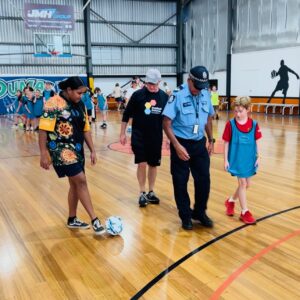 Our next day was more football and more kids! With the Indian Ocean 50 meters away and the sun shining down on us, the kids were able to have a run around and show off their skills and beautiful manners. It was great to see so many smiles and happy faces.
A great way to end our trip, along with meetings with amazing people doing amazing things for their community! Short and sweet but worthwhile…
See ya soon Gero!
-Mick Owens, Inclusion Programs Lead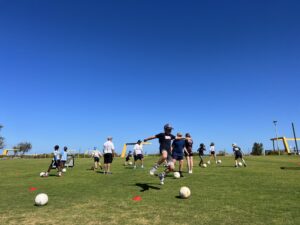 Football Futures Foundation has a lot in store so make sure to stay tuned across all our social media channels and websites to see what's coming up.
We hope you have a great year.
Bring on 2023!